Closa is one of the leading M&A advisors with extensive experience in
corporate transactions and financial and strategic advisory
Since 1987, Closa has successfully completed more than 750 transactions thanks to its extensive industry expertise and worldwide network that facilitates access to any part of the world through local representation in more than 50 countries.
We seek
excellence

in everything we do
Reliability
We strive for excellence in everything we do. We know that our clients must focus on their day-to-day management responsibilities, and so we provide a constant leadership role in every project focused on making their goals a reality.
High achieving team
We know your industry and work as a team to ensure you receive the best personalized advice on a wide range of opportunities. We know how to exceed your expectations.
Seniority
We know that your success depends on quick thinking and smart decision making. We provide reliable solutions with speed, innovation and proactivity to connect you with the right people and opportunities.
Responsibility
We act responsibly as a company and as individuals, prioritizing the integration of ESG policies, aiming to contribute positively to society.
Closa prioritizes the integration of ESG policies with the aim of making a
positive contribution

to society.
Environmental impact (E)
Closa has established a set of measures to contribute positively to environmental sustainability:
Energy efficiency

Use of reusable packaging

Reduction of paper use

Waste management

ENERGY STAR®-certified printers and photocopiers
Social impact (S)
Closa seeks to generate impact both internally and externally, advocating for:
Equal opportunities and commitment to human rights

Promotion of best practices in talent management

Promoting training and professional development of employees 

Work-life balance

Flexibility through remote work
Good governance (G)
Closa has designed a robust governance framework with structures, bodies and procedures:
Independence of the Board of Directors

Data Protection to ensure your security

Appointment of a Compliance Officer
Being able to count on
experienced

and

talented

people is the consequence of having built a high-performance team
where each individual has the seniority and the support structure needed for each project. 
Decades of work, with passionate and constant innovation, to continue our leadership in each of the sectors we cover in all types of operations. This approach allows us to have the best local expert anywhere in the world for each transaction.
Josep Maria is the Founder & Chairman of Closa and leads the Closa.Family Owned Business vertical. He founded the firm and was pioneer in Spain by opening a company dedicated to Corporate Finance with a vocation for mainly cross border operations.
Since 1987 he has successfully completed more than 200 investment banking transactions. Director of various public and family companies in the financial, services, real estate and food sectors (ACG, SSRR, Autogrill, GGI, Imisa, Meriden, Finvest, FCB, Barcelona Chamber of Commerce, M&A International, Carlyle, AIM, Rustic Bellavista, Vallnet, Granville, Evipsa and IBE among others). He is also a speaker and lecturer in the national and international Media, as well as in international Business Schools. He is the author of several books on Corporate Finance.
Josep Maria holds a PhD in Economics (UCM), a degree in Law (UCB) and an MBA (IESE).
TESTIMONIALS
"The clear option as we were looking for personalised advice and not a Big Four or Bulge Bracket".
Richmond Worgbah
Business Manager, Kasi Express.
"CLOSA's involvement goes beyond the professional, as there is also a sense of intergenerational legacy".
Sreehare Muraleedharan
President, MASH.
Marc is the Chairman of the Board at Closa. He has over 25 years of experience, including investment banking. Marc has extensive experience in software, TMT and e-commerce sectors among others.
He began his career in leading technology companies in the US, UK and Spain. He then held public positions including, among others, General Director of the Cabinet of the Ministry of Industry, Tourism and Trade or Director General of Red.es in the Spanish Government.
Current Chairman of Indra, board member of Fundación La Caixa and independent member of the board Ebro Foods, with extensive experience on Boards of Directors (Paradores, Inteco, Gordoning...). Since 2011 he has concluded more than 50 transactions in corporate finance. Lecturer and Guest Speaker abd regular columnist in La Vanguardia.
Marc holds a degree in Industrial Engineering (UPC) and an MBA (NYU).
TESTIMONIALS
"Marc was our perfect partner in the M&A transaction with Pernod Ricard. The team provided expertise, seriousness, discretion, negotiation skills and emotional management in a process that is always very complex. Highly recommended".
Nico Bour
CEO and founder, Uvinum.
"Marc helped us understand and execute the most important parameters for a successful sale. He also skilfully managed the relationships with the investors and between the partners of the company. He proved to be an indispensable element of the deal".
Cristian Martí
Director, Coordina.
With more than 30 years in the IT sector, developing a large part of his career at IBM where he reached management positions in both its Mainframe and Cloud Services departments, Àngel's profile is characterized by a combination of deep technical knowledge in the information technology field.
Lately he has expanded his experience in different sectors incorporating knowledge in the Health and Defense industry.
She has a doctorate in physics from the University of Barcelona, she also has an MBA from ESADE.
Ernest is Senior Partner at Closa.
With more than 30 years of experience in the technology sector as, for example, general manager at RISO Iberica, Oce Iberica, Tech Data and vice president of Epson Europe, as well as CEO for Epson France, Spain and Portugal.
He is currently a board member in different entities such as Foment del Treball where he is vice-president and president of the international commission, member of the Advisory Board Group in GPA Innova, Tenacta and UOC; in parallel he is a board member of Barcelona Tech City and he is also part of the board of the public company ACCIO, among other companies.
Graduate in Business Administration and Management and MBA (ESADE) and MBM (IESE).
TESTIMONIALS
"Great personal commitment as well as experience and knowledge."
Hans Peter Fuchs
CEO, EBM-PAPST.
"Closa offers a guaranteed professional opinion when needed."
Joan Tarradellas
CEO, Joan Tarradellas.
Andrew is the Senior Advisor at Closa. A UK qualified Chartered Accountant who trained with PwC, he has over 35 years experience across a range of business sectors, and is focused on Closa Alternative Investments.
He has acted at Director level in major blue chip and public companies as well as having hands on experience of start ups, especially in the TMT field. With a broad knowledge of IPOs, fundraising, debt financing and venture capital he has been involved in Mergers and Acquisitions on an international basis. He currently holds a range of Non Executive Directorships in the UK.
Andrew holds an Honours Degree in Accounting and Financial Analysis (Newcastle) and an MBA (LBS), as well as being a member of the Institute of Chartered Accountants (ICAEW).
TESTIMONIALS
"En a complex environment and serving different markets with their different peculiarities, he successfully led the project. Without his intervention it might not have been possible".
Xavier Mallafré
CEO, GORDON.
"Andrew has been a valued advisor to our organisation for the past decade. He has provided insight and delivered solutions in some extremely complex transactions, as well as helping shape our strategic focus as we have grown. Whilst a seasoned finance professional, Andrew has first hand knowledge of being an entrepreneur which has ensured he understands our operation. With his experience of fund raising and bank finance, he has demonstrated repeatedly that he can deliver for us".
Rob Johnson.
Chairman, Telecom 2 Ltd.
John-Oliver Breckoff has been advising companies from various sectors on the topics of strategy development and implementation, strategic marketing, as well as operational excellence, restructuring and transformation management for over 20 years. He began his career in international product management at Beiersdorf AG on various global brands (Nivea, Hansaplast) in Germany and Spain, then as Marketing Project Manager in the ERGO Group (Insurance). After completing his MBA, he switched to management consulting as a senior organizational consultant at AXAS AG and then became co-managing partner of Input AG, a leading Swiss consulting boutique for market-oriented management.
In 2015 he published the book "Price Excellence - Strategies to increase profitability" together with Stefan Michel, professor for service marketing at IMD, Lausanne.
He holds a Law degree from University Hamburg and MBA from ESADE Business School Barcelona. In 2000 he completed an International Management Program at NYU Stern Business School, NYC.
TESTIMONIALS
"The sale was carried out in record time and in the foreseen conditions".
Conrado Espi
CEO, Via Conexión.
"I met CLOSA in a process where they were advising the other party. Since then, I consider them to be one of the best professional teams in the investment banking world for their business vision, experience, problem-solving skills and ability to defend the interests of their clients".
Juancruz Alcalde
CEO, CTC.
Jorge is Senior Advisor at Closa and is responsible for Closa.Industrials, having concluded more than 100 M&A transactions in the field.
Jorge has more than 30 years of experience in the industrial sector. He currently serves as Founder of Iberwell Aeronáutica and IberAero Consulting, recognized companies in the aeronautical and automotive sector.
Previously he was part of Construcciones Aeronáuticas and ITP Aero and in 2014 he actively participated in the IPO of Applus Services, of which he was SVP Corporate Development, Marketing and Communications for 12 years.
Jorge holds a degree in Aeronautical Engineering (ETISA) and an MBA (IESE).
TESTIMONIALS
"Jorge is a person I will always remember, because working with him has been a great experience, both professionally and in terms of the working environment he creates, which motivates you to enjoy the work you are doing, regardless of the difficult moments that always exist. He has a great ability to connect with people, and wherever he goes he leaves his mark".
Manuel Gonzalez Sansegundo
Executive Director of Internal Governance and Media, ITP Aero.
"Jorge has many virtues !!!! I would emphasize above all his eagerness to solve the problems he encounters, his tenacity! And he succeeds !!!! He also knows very well how to work in a team with whom he always shares his successes. Finally, his good humour makes working with him always pleasant. He creates a good atmosphere. I have a lot more to say. Whoever signs him will get it right".
Ernesto Mata
President of the Advisory Board, KPMG.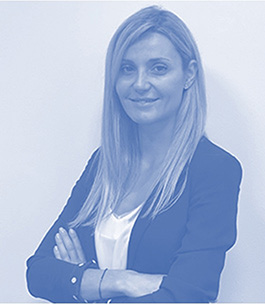 Laura began her professional career in the sales department of the Planeta group as director of the Key Accounts team. Subsequently, he began his activity in institutional projects and in the public sector throughout Spain and Latam.
Laura has developed institutional projects and participated in the educational plans of public universities. With a dynamic, creative, and persevering profile, she has managed to negotiate and implement customized plans for the management of large accounts, educational administrations in the public and private spheres.
Laura has a degree in Biological Sciences from the Complutense University of Madrid. She has participated in the Higher Program in Sales Management at the EAE Business School.
TESTIMONIALS
"Her is completely reliable."
Jordi Roche
"Her total discretion and passion for what she does has undoubtedly been one of the best things to surround oneself with."
Daniele Vigano
Co-founder, ROCKET
Ariadna Belver joins Closa as
Communication Director
. Economist and journalist and director of the program "Lideratges" in Onda Cero. With more than 25 years of experience in Real Estate, after passing through the firm EY where she worked as an auditor and consultant, she joined the CZFB as Deputy General Director of Barcelona Meeting Point, the first Real Estate fair in Spain and Southern Europe, a business platform and Real Estate events where she worked for 20 years until she became a Member of the Board of Directors of the Consorci Zona Franca Internacional. In 2016, she founded her own property consulting, CSR, ESG and events brand, Belver & Co, based in Barcelona.
She is a member of the Board of Directors of several non-profit organizations such as 50a50 Lideratge Compartit and Consell Nacional de les Dones de Catalunya, Vice President of WIRES, Women in Real Estate Spain and partner of Barcelona Global. Her social vocation: involved in equality and corporate social responsibility.
With more than 20 years of experience in corporate finance, financial analysis and M&A, she has worked as an independent consultant in Paris and kyiv.
Tatiana has worked as a Risk Officer at Banco Bilbao Vizcaya Argentaria (BBVA) in the internal control department and at other financial institutions.
Graduated with honors in Master in Mathematical Methods in Economics at the Taras Shevchenko National University, Advanced Postgraduate Studies in Economics at the Central European University and MBA (IESE).
TESTIMONIALS
"Closa offers extraordinary professionals, who live and transmit passion in everything they do, with a great strategic vision, promoting teamwork and maintaining an excellent relationship with all stakeholders".
Joan Amigo
CFO,APPLUS GROUP
"His renowned work in financial matters puts you and your interlocutors comfortable with expectations. An expert bodyguard who keeps danger at bay, gives you all the credit and makes you feel like family."
Ramon Eixarch
CEO,WIRIS.
Kamal is an Associate Director at Closa. Since joining Closa, he has participated in numerous transactions involving the sale and purchase of companies and the raising of financing (equity and debt). He has special skills in quantitative finance and has experience in various sectors such as technology (e-commerce, marketplace, SaaS), logistics and professional services, among others.
He is also an associate professor of Corporate Finance at UPF.
Kamal holds a degree in Investment Management (UP) and a Masters in Corporate Finance and Banking (UPF BSM) and in Entrepreneurship and Innovation (INSA). He has also completed levels 1 and 2 of the CFA Program.
Alejandro is an Associate at Closa.
He started his professional career at BNP Paribas and NOQCA Partners, where he gained experience in corporate finance and investment banking in the industrial, consumer and e-commerce sectors. He has participated in several M&A and fundraising (equity and debt) transactions in sectors such as technology (e-commerce, Big Data, Drones, etc.) and profesional services, among others.
Alejandro holds a degree in Business Administration (ICADE).
He has developed most of his career in Banc Sabadell, in the legal team of the bank's international projects.
He has also worked in other sectors like retail or law, booth in the sports industry.
Josep is a law graduate (ESADE) and has a Master in International Business Law in ESADE and Singapore Management University
Daniel works as Integration Manager at Closa, being involved in communication duties.
He began his professional career in the restaurant sector, forming part of the starred Roca Moo, he also collaborated with gastronomic establishments in the Sants district.
Daniel has attended an Audiovisual Communication course (UIC) and has achived a higher diploma (CETT).
Daniel is an
Analyst
at Closa.
Daniel is studying a double degree in Industrial Production Engineering at the Politecnico di Torino and Business Administration at the International University of Catalonia. He has previously completed an internship in the international trade department of the company Agupunt.
Sheila is Chief Financial Officer at Closa.
Sheila has more than 20 years of experience in the structuring and organization of administrative and financial departments in companies in her field. Previously, she has also participated as an organizer of conferences on the implementation of successful administrative procedures and coaching techniques in the work environment.
Sheila has a degree in Administration and Finance and a postgraduate degree in hotel management from Alfonso X el Sabio (UAX).
Aisha is a specialist in
Corporate Law
in Venezuela with extensive experience in advising and assisting local companies in everything related to their incorporation and entry into the market.
Aisha holds a law degree from Universidad Católica Andres Bello (UCAB) in 2005, and a postgraduate degree in Corporate Social Responsibility from the Universidad Metropolitana in 2012. Member of the Bar Association of the Capital District and State of Miranda since 2016.
Teresa began her professional career working in the fashion sector, forming part of the Primark and Inditex team. She later started working as an Account Manager for fashion and creative brands at Spathios.
Teresa also helps create branding and communication plans for companies from different sectors.
She graduated with First Class Honors in Fashion Marketing and Communication Design (University of Westminster) and has a certificate in Fashion Business Essentials (Parsons – The New School).
Cruces works as
Executive Assistant
at Closa Madrid.
She has experience in logistics, customs and tax management, having worked for 15 years as a consultant in foreign trade and logistics in Soluziona and INDRA, working in different international markets worldwide. She is also the founder of CRUCA, her own clothing brand, and works as Quality Manager at Iberwell, a company in the aeronautical sector.
Cruces has a degree in Management Assistant (Escuela Superior de Secretarias), a postgraduate degree in International Trade Management (Madrid Chamber of Commerce), a Master's Degree in Purchasing and International Trade (ICIL) and a Master's Degree in Fashion Design (IED).